¡Qué mierda mi vida!, se está volviendo el lema de Avery. Justo cuando cree que las cosas no pueden empeorar, lo hacen. Cuando su auto se detiene en una concurrida intersección y sale para revisar debajo del capó, un sujeto le roba el auto. Armada con un vestido y un par de zapatillas, Avery corre detrás del ladrón. Cuando un sexy extraño le ofrece su ayuda, ella no puede negarse. Así es como Avery conoce a Sean Ferro, el sujeto absolutamente sexy y completamente dañado con más secretos para los que ella tiene tiempo. Avery no tiene tiempo para nada. Su vida se está cayendo a pedazos y no solamente el auto. Todo, y no importa cuánto intente aferrarse, no queda nada a lo que agarrarse. Con la repentina muerte de sus padres, es cuestión de meses hasta que la oportunidad de Avery en la universidad se haya ido, y se encuentra viviendo en una caja de cartón. Los otros estudiantes tienen a sus familias de las que depender cuando las cosas se ponen feas. Avery no tiene a nadie.Pero hay una opción, una opción increíblemente sexy y desprovista de moral. Si Avery toma un trabajo como prostituta, algún sujeto podría salvarla. Un cliente. Una sola vez. Solo tiene que decir que sí.
The Arrangement #2
A Avery la vida se le escapa de entre los dedos. Todo por lo que ella ha trabajado desaparecerá si no toma este trabajo. La idea de ser una prostituta no es del gusto de Avery, pero su primer cliente ha llegado. Sean es demasiado difícil de resistir. Esta podría ser la oportunidad de arreglar sus cuentas y encontrar el amor. Sólo tiene que tener suficientes agallas para llevarlo a cabo.
The Arrangement #3
El sexo no es amor, pero se siente como si lo fuera… hasta que Sean sale huyendo de la habitación. Por un momento, todo parecía estar bien. La vida de Avery no se sintió tan imposible. Tenía al hombre y el dinero, pero todo cambia. La línea entre la realidad y la fantasía se pone borrosa. Es imposible saber si los sentimientos de ella son genuinos o solo una ilusión.
Para empeorar las cosas algo del pasado de Sean sale a la superficie. Devastada, Avery se da cuenta que Sean no es el sujeto que pensaba que era. El corazón de Avery no puede soportar otra pérdida y esta vez, parece que está a punto de perderlo todo.
The Arrangement #4
Avery ha descubierto, demasiado tarde, que su corazón no está hecho para ser el de una prostituta. Se siente demasiado atraída por Sean. Avery no sólo quiere su cuerpo, quiere su corazón. Cuando él la despide, Avery queda devastada. Tratar de recoger las piezas es difícil, sobre todo cuando no puede conseguir otro trabajo.
Atrapada entre la espada y la pared con con su jefa, todo lo que importa es hacer feliz al próximo cliente, pero las cosas no van como deberían. Para empeorar las cosas, Sean se presenta en el peor momento posible. Avery sueña con la oportunidad de empezar de nuevo, de borrar Sean de su vida para siempre y dejar su antigua "yo" atrás. Sin embargo, cada vez parece mas sólo un sueño.
The Arrangement #5
Las emociones de Avery son una locura, pero ella no tiene dudas acerca de sus mejores amigos Marty y Mel. Ellos significan todo para ella. Son la familia que no tiene. En una crisis, son las personas que tiene a su lado, y Dios sabe que esta es una crisis. Amigos como estos, valen su peso en oro.
Ojalá las cosas con Sean fueran tan simples. El arrepentimiento es algo imposible de someter. Todavía hay cosas que decir, cosas que hacer. La vida es demasiado corta para vivir en el pasado, pero cuando Avery se despierta en el hospital se encuentra con que todo su mundo ha cambiado.
The Arrangement #6
Justo cuando Avery piensa que ha encontrado el equilibrio entre su posición como prostituta y su relación con Sean, todo cambia. Las relaciones de las que ella ha dependido desaparecen repentinamente. Después de años de amistad, Avery se ve obligado a enfrentarse a una dura realidad... no hay lugar para los sentimientos en este tipo de negocio.
Cuando Avery descubre el oscuro secreto de Sean, todo cambia. Su confesión la pilló por sorpresa. Sean tiene un oscuro pasado, sabía eso desde el principio, pero esto es mucho peor de lo que había pensado. Hay un lado peligroso en Sean. Es atractivo y aterrador al mismo tiempo. Avery tiene que decidir si el amor puede superar cualquier cosa o si ella debe proteger su corazón.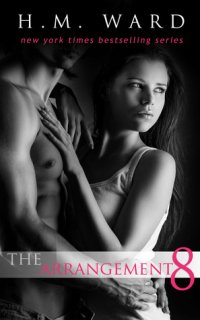 Nada va siempre de la manera que deberían. Marty es apenas un amigo más, y el compañero de habitación de demonios está haciendo chico desnudo en mi sofá nuevo. Ya es bastante malo que siento que mi vida está llegando a pedazos. Hay un hombre que se ha mantenido juntos durante las últimas semanas, pero las cosas cambian. Todo lo que necesitas es un par de palabras y todo se fragmenta.
Sinopsis: Cuando Avery descubre que el vaquero que solicitó sus servicios para esa noche, es Marty las cosas toman un giro inesperado. Si Avery rechaza a su amigo, ella se meterá en problema con la señorita Black, pero si lo acepto, esto podría significar una nueva nueva relación normal y decir adiós a Sean para siempre.
Cuando Avery se da cuenta que su último cliente no es Sean, no sabe qué hacer.
Esta persona ha invadido su vida a nivel personal y para empeorar las cosas ni siquiera saben quién es. Lo único bueno que salió de esto es que ha visto de nuevo a Sean, pero ahora que está frente a ella, no quiere dejarlo ir. Sin embargo, es hora de que Avery deje de fingir y siga adelante con su vida, y sabe que Sean Ferro no será parte de la misma.
Sean Ferro es mi adicción. No le puedo decir que no, sin importar lo que pide, y sé que hay tantas preguntas oscuras detrás de esos ojos azules, tantas cosas que quiere que haga con él.
Cuando lo veo ponerse en una rodilla, con su cuerpo sexy cubierto de arena, y sostiene en alto un anillo brillante, apenas puedo respirar. Parece que va a proponerme matrimonio, y sé exactamente lo que voy a decir.
Hay tanta sangre que no puedo pensar. La noche va de la felicidad al caos en cuestión de segundos. A medida que la verdad comienza a desmoronarse, está claro que no puedo confiar en nadie, excepto en Sean Ferro. El mismo hombre que amenaza con destruirme también podría ser mi salvación… y yo podría ser la suya.
The Arrangement #13
«No puedo perderla». Esas son las palabras que me persiguen, la frase que se repite en un bucle sin fin en mi mente. Imágenes de mi pasado chocan con el presente hasta que ya no puedo distinguirlos. Trato de aferrarme a lo que es real… aferrarme a ella, Avery, pero la muerte es inminente y parece que sin importar lo que hago, no puedo salvarla.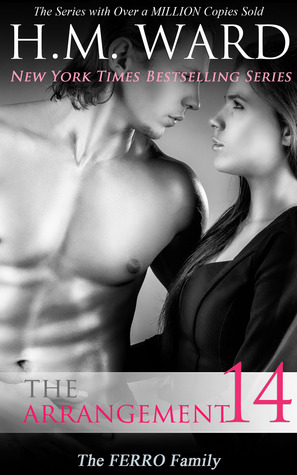 The Arrangement #14
Sean Ferro es un mentiroso. Todo lo que alguna vez me dijo se desvanece hasta que sólo la verdad permanece y no me gusta lo que veo. Gabe intentó advertirme, pero no entiendo las profundidades de la corrupción de Sean hasta que dejo que me derriben. Después de todo lo que hemos pasado, estoy devastada, pero me niego a aceptar este destino. Que se joda, no voy a morir esta noche.
Es difícil confiar en nadie más. Todo el mundo es sospechoso. Y no tengo ningún respiro, no hay descanso. No puedo dormir después de todo lo que he pasado.
Sean se está escapando entre mis manos, retrocediendo de nuevo al monstruo que era. Sola, estoy siendo sofocada por la cubierta fría de la muerte. Demasiadas personas han muerto… esto termina esta noche. Si me mata, que así sea.
He pasado de un futuro lleno de posibilidades a la nada con un solo disparo. Sin hogar, sin dinero y sin el hombre que amo, mi desesperanza me abruma y busco la inesperada comodidad en las personas que estuvieron ausentes en mi vida durante mucho tiempo. No puedo perder a Sean —ni ahora, ni nunca— y haré lo que sea para capturar a la persona tratando de alejarlo de mí, incluso si eso significa usarme como cebo.
Hay opciones que cambian una vida para siempre. Sé con toda seguridad que mi vida habría sido muy diferente si hubiera elegido otro camino. Pero no lo hice. Elegí a Sean. Durante el tiempo que está desaparecido, los restos de mi mundo se desmoronan. Peter es un pilar de fortaleza, pero sigue siendo un Ferro de principio a fin. Si no voy tras Marty sola, corro el riesgo de que Peter vuelva a ser el hombre que una vez fue. Si voy sola, puede que jamás regrese. Mi vida gira sobre una cabeza de alfiler, obligándome una vez más a elegir entre la lógica y el amor.
The Arrangement #18
Sean es la última persona que esperaba que abra la puerta de la mansión Ferro, y sin embargo, aquí está. Mi plan se hace polvo y sale volando. Después de todo lo que pasé, estoy de vuelta al principio, cayendo a los pies del único hombre que puede salvarme.
Algunas cosas vienen fácil en la vida, pero esta es la situación más difícil que podría haber imaginado. El hombre que amo, el multimillonario destrozado Sean Ferro, finalmente ha bajado la guardia y me abrió su corazón. Me dejó entrar. Ha compartido su vida y su amor conmigo. Pero entonces lo inimaginable sucede. Una cascada de eventos pasa hasta que estoy de pie en la orilla con sangre en mis manos, traicionando al hombre que juré amar para siempre.
Mi vida se fracturó con un solo disparo. Perfora la noche, destrozando mi corazón. El imparable millonario Sean Ferro cae de rodillas por una bala. No puedo detenerlo. No puedo salvarlo.
Un grito silencioso se aloja en mi garganta mientras veo con horror. Las consecuencias de mis decisiones pasadas se están poniendo al día conmigo. Los pecados de mi madre son ahora míos, y nada puede lavar la sangre inocente de mis manos.
Estoy obligada a derrotar a mi mayor adversario sola, y lo peor es que es mi único hermano.