Charles Dexter Ward decide buscar los rastros de un misterioso antepasado, Joseph Curwen. En su investigación, se e ncuentra con fuerzas insospechadas y terribles, que le acarrearán con secuencias nefastas. Esta novela clásica de terror, con elementos de vampirismo, golems, conjuros e invocaciones, no hace sino advertirnos de un peligro real y trascendente: «No invoquéis nada que no podáis controlar». H.P. Lovecraft (Rhode Island, 1890 – 1937), prolífico escritor de historias, ensayos y poemas, se encuentra entre los grandes nombres de la literatura norteamericana del siglo XX.
EL COLOR QUE CAYÓ DEL CIELO/ The Colour Out of Space
La historia es contada en primera persona por un ingeniero encargado de hacer un estudio para edificar un lago en un remoto paraje, llamado Arkham. Allí encuentra un área de terreno que es distinta a todas y que le causa extrañas sensaciones. Un anciano vecino del lugar le explica que el motivo del estado de esa parcela es que un meteorito se estrelló cerca de una granja, y, al transcurrir el tiempo, las plantas y árboles primero, y los animales después, empiezan a sufrir mutaciones, cambios de color, olores desagradables, acabando afectando a la familia que habita la granja, enloqueciéndola hasta morir en un trágico final, y el ingeniero decide abandonar su trabajo electrizado por el horror que descubre.
EL HORROR DE DUNWICH/ The Dunwich Horror
«Nadie, ni siquiera quienes conocen los hechos relacionados con el horror reciente, puede decir con exactitud qué sucede con Dunwich; aunque las leyendas antiguas hablan de ritos impíos y aquelarres de los indios, en medio de los cuales invocaban a sombras prohibidas en las grandes colinas redondeadas y realizaban salvajes plegarias orgiásticas contestadas por fuertes crujidos y truenos bajo tierra.
Wilbur Whateley, hijo precoz y monstruoso de una solitaria familia de Dunwich, conserva parte del atroz secreto del Necronomicón, el libro prohibido. El secreto no puede, no debe, ser revelado a los hombres: las fuerzas del mal perviven y pueden invocarse. Una vez desatadas, el mundo conocerá su apocalipsis.»
EL QUE ACECHA EN EL UMBRAL/ The Lurker at the Treshold
El que acecha en el umbral se centra de un modo explícito en ese auténtico punto focal del horror lovecraftiano que es el símbolo de la "puerta". Una puerta que, cuando se abre, no provoca la mera irrupción de los monstruos del otro lado, cual si del portillo de una simple jaula se tratara: en las inmediaciones del umbral blasfemo, la substancia misma del espacio-tiempo resulta intimamente transformada, y el mundo parece empezar a disolverse en el maligno vaho de sus arcanos.
El templo (The temple) es un relato de terror del escritor norteamericano Howard Phillip Lovecraft, escrito en 1920 y publicado en 1925. Fue la primera historia de Lovecraft en ser publicada en Weird Tales.
Así como sucede en la trama de Dagón, El templo es una narración náutica, sobre una ciudad subacuática habitada por extraños seres, que luego serán recurrentes en posteriores historias de Lovecraft.
EN BUSCA DE LA CIUDAD DEL SOL PONIENTE
"En Busca de la Ciudad del Sol Poniente" es un cautivante relato entre lo onírico y lo épico, que narra la peligrosa travesía de Randolph Carter a fin de encontrar una mítica ciudad de ensueño en los confines del mundo, donde los hombres ya no se aventuran.
HERBERT WEST. EL REANIMADOR
Con una división de seis capítulos, H.P Lovecraft describe la macabra historia de Herbert West, utilizando la narración en primera persona de su ayudante. West es un joven científico que emprende una experimentación laboriosa sobre la reanimación de cuerpos fallecidos, bajo el estudio y evolución de un prodigioso suero que parece reavivar las constantes vitales de los cadáveres. Desde su época de estudiante hasta su paso por la prestigiosa "Universidad de Miskatonic", descubriremos las macabras andanzas de West y su ayudante con unas espeluznantes consecuencias.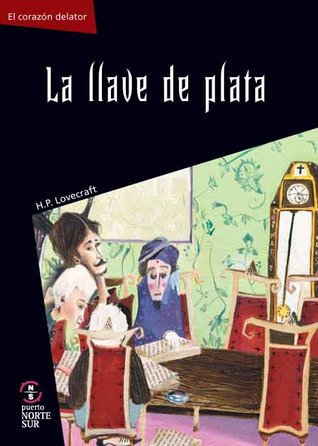 Cuatro hombres reunidos en un oscuro salón de Nueva Orléans tratan de decidir qué hacer con las propiedades del desaparecido Randolph Carter. Uno de estos hombres oculta un oscuro secreto. Poco a poco el lector irá desmadejando la alambicada trama que se esconde tras las pistas de la desaparición del señor Carter. Una vez más H.P. Lovecraft logra sumergirnos en una compleja realidad paralela ante cuya posibilidad nuestros corazones dejan de latir por un segundo y se nos hiela la sangre.
LA SOMBRA SOBRE INNSMOUTH
La historia trata sobre un pueblo pesquero que antaño fue exitoso y próspero, pero que ahora se halla en la ruina y la pobreza. La causa de la degeneración se le atribuye a una epidemia procedente de un barco, y que enfermó por centenas a los habitantes del pueblo. Sin embargo, los rumores hablan de pactos con el diablo. Son pocos los que se aventuran a viajar a ese pueblo, pues muchos extranjeros que no han regresado tras viajar a Innsmouth. Sin embargo, el protagonista, un viajero en busca de sus orígenes, se siente intrigado por los rumores y el estado del pueblo y decide visitarlo hacia su destino final. Pero se ve obligado a pasar la noche sobre el pueblo, donde descubre sus macabros secretos.
LOS SUEÑOS EN LA CASA DE LA BRUJA
La famosa Casa de la Bruja está ubicada en Arkham. Allí, Walter Gilman, un estudiante de matemática, irá descubriendo una serie de misteriosas desapariciones que comienzan doscientos años atrás, y que parecen desafiar toda lógica.
El rasgo más destacable de Los sueños en la casa de la bruja es, precisamente, el abordaje que realiza Lovecraft sobre los inquietantes sueños que se producen al pernoctar en aquella casa maldita.
NOTA
. Son novelas cortas y relatos, por eso tan pocas páginas. NO están incompletos.