Hace cuatrocientos años, el mundo estalló en llamas. Ahora, los recién nacidos son siempre gemelos: uno de ellos es un niño sano, el alfa; el otro, el omega, sufre algún tipo de mutación. Sin embargo, cuando un gemelo muere, también lo hace el otro.
LOS OMEGAS son apartados de sus familias en cuanto su deformidad es evidente y forzados a vivir en asentamientos aislados, oprimidos por el Consejo.
LOS ALFAS son la élite. Una vez reconocidos como tales y separados de sus gemelos, pueden ocupar su lugar en una sociedad privilegiada y segura.
Cass y Zach son dos gemelos físicamente perfectos, pero nadie escapa a la dualidad de alfas y omegas, y Cass tiene un secreto que Zach quiere sacar a la luz a toda costa. Ambos tienen la capacidad para cambiar el mundo, pero para conseguirlo primero deberán vencer al otro.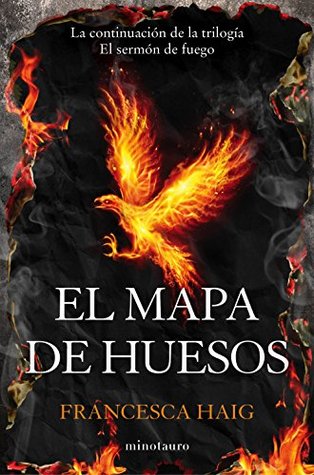 #2. The Map of Bones/ El mapa de huesos
«Cuando se detuviera su corazón, también lo haría el mío. Zach siempre me había traicionado, pero nuestra muerte compartida era la única promesa que no podría romper».
Cuatrocientos años después de un apocalipsis nuclear, la sociedad se divide entre la élite formada por los alfas, físicamente perfectos, y sus oprimidos gemelos omegas, marcados con algún tipo de deformidad. Pero a pesar de su proclamada superioridad, los alfas no pueden escapar a su destino: cuando un gemelo muere, también lo hace el otro.
La resistencia omega ha sido brutalmente atacada y los supervivientes han tenido que esconderse. El plan alfa para la contención permanente de los omegas ha empezado.
Perseguida por sus visiones del pasado, Cass ve cómo la obsesiva crueldad de su gemelo Zach amenaza con destruir todo lo que le importa. El país se dirige hacia una guerra civil y Cass aprenderá que para cambiar el futuro, antes debe descubrir el pasado. Pero nada puede prepararla para el secreto que está a punto de salir a la luz.
*El libro #3 aún no se publica.