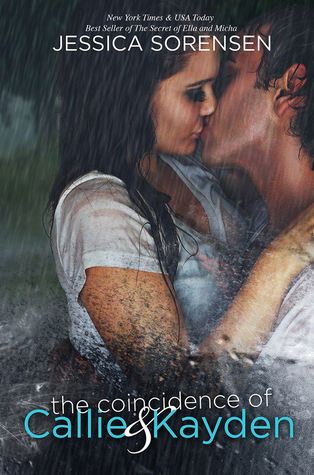 #1. The Coincidence of Callie and Kayden
Hay a quienes la suerte no les llega en una bandeja de plata, quienes terminan en el lugar y momento equivocado, quienes no están a salvo.
La suerte no estuvo del lado de Callie el día que cumplió doce años, cuando todo le fue arrebatado. Después de que todo terminó, guardó bajo llave sus sentimientos y juró no volver a contarle a nadie lo que le pasó. Seis años más tarde, su doloroso pasado consume su vida y la mayoría de los días es una lucha por seguir respirando.
Desde que Kayden puede recordar, sufrir en silencio es la única manera de sobrevivir. Mientras hace lo que le ordenan, todo está bien. Una noche, después de cometer un terrible error, parece que su vida esta a punto de terminar. Sin embargo, la suerte estuvo de su lado cuando Callie casualmente esta en el lugar y momento correcto para salvarlo.
Ahora, él no puede dejar de pensar en la chica que veían en la escuela, pero que nunca conoció realmente. Cuando termina en la misma universidad que Callie, él hace todo lo posible por tratar de conocerla. Pero Callie es reservada y cerrada. Cuanto más intenta ser parte de su vida, más descubre que Callie podría necesitar ser salvada.
#2. The Redemption of Callie and Kayden
El oscuro secreto que Kayden ha mantenido oculto por años, es descubierto. Y aún peor, se encuentra enfrentado cargos en su contra por agresión. La única forma de que pueda salir victorioso contra los cargos es si Callie habla, algo que él nunca le pediría hacer.
Callie sabe que Kayden va a regresar a ese hogar tan oscuro y quiere salvarlo con desesperación. Pero salvarlo implica admitir sus secretos a la luz pública. Callie y Kayden son más fuertes de lo que piensan, especialmente cuando se encuentran juntos. Juntos salen adelante, enfrentan sus demonios, y finalmente comienzan a sanar de sus pasados tan traumáticos.
#3. The Destiny of Violet & Luke
La vida de Luke Price siempre ha sido sobre orden, control, y actuar rudo en el exterior. Para Luke, relaciones sin sentido son una forma de distracción para apagar los recuerdos retorcidos de su infancia. Desea desesperadamente poder olvidar su pasado, pero lo persigue sin importar lo que haga.
Violet Hayes ha tenido una vida dura. Cuando era joven, se quedó sin familia y con el recuerdo de los asesinatos no resueltos de sus padres. Creció en hogares de acogida, viviendo con padres irresponsables, drogas y abandono, y tratando de luchar contra los dolorosos recuerdos de la noche en que sus padres fueron apartados de ella. Pero es difícil olvidar cuando nunca tuvo un cierre y no puede dejar de soñar sobre lo que pasó en esa noche trágica. Para seguir adelante con la vida, mantiene su distancia con todos y nunca se permite sentir nada.
Luego Violet conoce a Luke. Los dos chocan instantáneamente, pero aún así parece que no pueden alejarse el uno del otro. Aunque luchan contra ello, los dos comienzan a abrirse y sentir cosas que nunca habían sentido antes. Descubren cuan similares son. Pero también descubren algo más: El pasado siempre te alcanza...
Luke Price y Violet Hayes no se han visto en un par de meses, no desde el día que descubrieron la conexión de la madre de Luke con el asesinato de los padres de Viotet. Pero cuando Luke se mete en algunos problemas de juego con la gente equivocada, el destino decide juntarlos y se dirigen a las Vegas para tratar de salvar la deuda de Luke.
Mientras Violet pasa tiempo con Luke, ella empieza a desgarrarse entre sí debería estar con él. Ella definitivamente no puede negar que su vida es mejor cuando está con Luke y empieza a preguntarse si volver a Preston fue un error.
Las cosas parecen ir bien mientras Viotet se abre más a Luke, pero luego recibe una llamada del detective, no sólo para dar información sobre algunos textos amenazantes que ha estado recibiendo. La información no sólo es chocante, sino que hace cuestionar a Violet con qué tipo de personas sus padres estaban y si ella será capaz de confiar en alguien alguna vez.
La vida de Violet Hayes es un desastre. Entre su acosador, Preston, negándose a dejarla sola, el caso de sus padres aún sin resolver, y su retraso en la universidad, siempre siente que está a punto de perderlo todo. Cuando una noticia inesperada llega, es superada y termina haciendo algo que casi le cuesta la vida. Afortunadamente, sobrevive y se promete a sí misma reorganizar su vida y tratar de averiguar exactamente cómo se siente acerca de Luke Price, la única persona que siempre está ahí para ella.
Pero como un apostador y alcohólico en recuperación, Luke tiene sus propios problemas que superar. Está enamorado de Violet, pero teme que decirle la verdad, va a hacerla correr asustada o aún peor, no va a corresponder el sentimiento. Además, nunca parece encontrar el momento adecuado para decírselo, ya que el caso, Preston, o la vida siempre se encuentran en el medio.
¿Podrán ambos conseguir paz en sus vidas para conquistar sus miedos y finalmente decirse la verdad sobre cómo se sienten?
Las cosas van bien para Callie y Kayden. Ellos todavía están lidiando con su pasado y el dolor conectado a él, pero en su mayor parte han seguido adelante. La decisión más importante que tienen en este momento es lo que quieren hacer con sus vidas en el futuro. Con el tiempo, sin embargo, el pasado se pone al día con ellos, dejándolos con elecciones difíciles. Pero Callie y Kayden aprenden que siempre que se tengan el uno al otro, pueden sobrevivir a casi cualquier cosa. Y al final, descubren lo que realmente quieren de la vida.