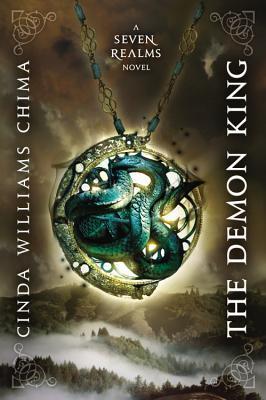 #1. The Demon King/ El rey demonio
Han Alister está haciendo todo lo posible para ganarse la vida con honradez. Un día, él y su amigo Bailarín capturan a tres jóvenes magos que intentan prender fuego a la montaña sagrada. Tras la confrontación, Han se lleva un amuleto de Micah Bayar para asegurarse de que jamás es utilizado contra ellos. Pero pronto descubrirá que el amuleto perteneció al Rey Demonio, el mago que estuvo a punto de destruir el mundo. Y ahora sabe que los Bayar no se detendrán ante nada con tal de recuperarlo. Mientras tanto, Raisa ana'Marianna, princesa heredera, tiene sus propias batallas que librar. Ha disfrutado de casi tres años de libertad y sus intereses están muy lejos del rígido mundo de la corte. Ella aspira a ser como Hanalea, la legendaria guerrera que salvó el mundo, pero su madre tiene otros planes. Una extraordinaria novela de fantasía capaz de atrapar por igual a lectores de todas las edades: nos transporta a un mundo inolvidable y verosímil, donde es posible vivir aventuras fabulosas.
Obsesionado con la muerte de su madre y de su hermana, Han Alister viaja hacia el sur para comenzar a recibir educación en Casa Mystwerk, en el Vado de Oden. Pero es imposible huir del peligro: los Bayar, la poderosa familia de magos, lo acechan intentando recuperar el amuleto que les robó. Además, Casa Mystwerk tampoco es un lugar tan seguro: allí Cuervo, un mago misterioso, se convierte en su tutor para enseñarle todo lo que sabe sobre las artes más oscuras de la bujería, tras sellar un pacto del que Han podría arrepentirse.
Por otra parte, la princesa Raisa ana'Marianna escapa de un matrimonio forzoso acompañada por su amigo Amon. El lugar más seguro para ella es Casa Wien, la academia militar en el Vado de Oden, donde logrará conseguir la educación que necesita para convertirse en la próxima reina de los Lobo Gris. Pero cuando los caminos de Han y Raisa se cruzan, el orden de sus vidas se ve trastornado por completo.


Han Alister creía que había perdido a todas aquellas personas que amaba, pero cuando encuentra a su amiga Rebeca Morley en las montañas del Espíritu y cerca del abismo de la muerte, comprende que no existe nada más importante que salvarla.
No obstante, pronto descubrirá también que esta chica hermosa y misteriosa no es otra que Raisa ana'Marianna, heredera de la familia que mató a su madre y su hermana. Pero, para evitar que Raisa se haga con la herencia, algunos intentarán, una y otra vez, acabar con su vida. Para evitarlo, Raisa sólo podrá confiar en su ingenio y en su voluntad de hierro.


#4. The Crimson Crown/ La corona carmesí
Después de la muerte de su madre, Raisa ha sido declarada Reina del trono del Lobo Gris pero su poder es débil, las distintas facciones (los clanes, magos y ejercito) se odian entre si y la presionan para que acepte su candidato a consorte. Ella no tiene tiempo para su amado Alister. Alister consigue un puesto en el Consejo de Magos gracias al apoyo de la Reina pero los otros miembros quieren manipularlo o matarlo. En la ciudad los magos son asesinados misteriosamente y marcados con el signo de la vieja banda de Alister. Los ejércitos del Sur amenazan el reino. Alister busca la armería de los reyes para consolidar el poder con la ayuda del espíritu de su ancestro. Bailarín se instala en la ciudad descubriendo la mezcla de la alta magia y la magia natural y preparándose para el enfrentamiento con su padre. ¿Se conseguirá cerrar las viejas heridas del pasado? Los dos jóvenes amantes que fueron traicionados, Alger Aguabaja torturado hasta la muerte y la reina Hanalea con una vida sin amor.