Desde el año pasado que -con las ganancias de los acortadores- vengo comprando ebooks para compartir en el blog. Las últimas fueron en el grupo de Facebook, pero ahora las haré aquí para aumentar la democracia digo yo (?)
Yo tenía pensado comprar el libro para Navidad, tuve problemas con un acortador. Pero en fin, hace poco me hicieron el pago y es hora de aprovecharlo (?)
Estuve buscando libros para comprar, y he aquí la lista final de opciones. Al título del libro le puse un enlace a Goodreads para que revisen la puntuación o reseñas por si les interesa.
Género: Fantasía, Young Adult, Romance
*Primer libro de la trilogía The Glittering Court.
Adelaide, una joven condesa de la nobleza osfridiana, se hace pasar por su propia sirvienta para escapar de un matrimonio impuesto por su familia. Adelaide solo desea abandonar los palacios refinados y llenos de oro de Osfrid para empezar una nueva vida entre los bosques inexplorados de Adoria. Pero para ello deberá unirse a la Corte Reluciente, que es tanto una escuela como un negocio diseñado para transformar a las niñas pobres en damas de clase alta para luego poder casarlas a través de matrimonios concertados con ricos poderosos del Nuevo Mundo.Adelaide deberá esconder su origen real y al mismo tiempo evitar un matrimonio forzado en una sociedad en la que el papel de la mujer parece relegado solo al de esposa. Sin embargo, alguien descubrirá los verdaderos orígenes de la joven, con lo que empezará una huida sin retorno hacia tierras salvajes, peligrosas y desconocidas.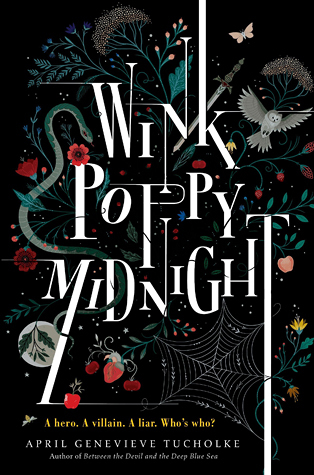 Género: Young Adult, Misterio, Contemporáneo
Todas las historias necesitan un HÉROE. Todas las historias necesitan un VILLANO. Todas las historias necesitan un SECRETO. Wink es la chica rara y misteriosa del vecindario.Poppy es la rubia arrogante y manipuladora que consigue todo lo que quiere. Midnight es el joven dulce e indeciso que está atrapado entre Wink y Poppy. Wink. Poppy. Midnight. Dos chicas. Un chico. Una mentira. Un secreto que puede cambiarlo todo.
Género: Fantasía, Young Adult, Magia
*Primer libro en la trilogía The Impostor Queen.
UNA PROFECÍA QUE NO SE CUMPLE; UN REINO A LA DERIVA; UNA JOVEN ATRAPADA ENTRE EL DESEO Y EL DEBER.
Elli era solo una niña cuando los Ancianos de Kupari la eligieron como la sucesora de la reina: una mujer que puede manejar el poder infinito de la magia de hielo y de fuego al servicio de su pueblo. A Elli la prepararon para cumplir su destino; el día en que esas poderosas fuerzas tomen su cuerpo para cumplir la profecía. Pero cuando llega el momento; las cosas no ocurren como lo esperaban; y Elli tendrá que adaptarse a una nueva realidad cargada de oscuros secretos e injusticias; y averiguar cuál es su verdadero rol en la historia de los Kupari.
Género: Young Adult, Contemporáneo, Romance
*Primer libro de la trilogía Girl Online.
La primera novela de la famosa youtuber Zoella.
Penny tiene un secreto. Con el nombre de GirlOnline, tiene un blog donde escribe lo que piensasobre la amistad, los dramas de instituto, los chicos, su familia... y, últimamente, también sobre las crisis de ansiedad que han empezado a fastidiarle la vida. Cuando la cosa amenaza con ponerse fea, sus padres deciden enviarla a Nueva York para que cambie de aires. Allí conoce a Noah, un guitarrista tremendamente guapo del que no puede evitar quedarse pillada. Penny se está enamorando. Y, por supuesto, lo cuenta todo en su blog. Lo que no sabe Penny es que Noah también tiene un secreto..., un secreto que amenaza con desvelar la verdadera identidad de GirlOnline y arruinar su blog, y su amistad, para siempre.
Género: Young Adult, Misterio, Contemporáneo, Thriller
Elegante, provocadora y atmosférica, esta novela tiene tantos giros y vueltas de tuerca que deja sin aliento al lector. Esta novela reúne todos los ingredientes de la literatura juvenil adolescente –amor, transgresión, amistad, rebeldía, conflicto– a través de un sorprendente reparto de personajes, y los eleva a un rango de suspenso y misterio propio de los mejores novelistas de género negro adulto. Antes de que Delia se suicidara, June ya echaba de menos a su mejor amiga. Después del episodio que hizo concluir su amistad, ella siempre pensó que tarde o temprano acabarían reconciliándose, pero ahora la vida de Delia se ha cortado trágicamente. June apenas tiene tiempo para llorar la muerte de su amiga cuando el exnovio de Delia la convence de que ella fue asesinada. De repente es arrastrada a una maraña de mentiras y engaños… y a una conspiración que nunca podría haber imaginado.
Género: Young Adult, Contemporáneo
Para entender lo que pasó con su mejor amigo Hayden, Sam tiene que confiar en la lista de canciones y en su memoria. Pero cuanto más escucha se da cuenta que su memoria no es tan confiable como creía. Especialmente cuando alguien que pretende ser Hayden le manda mensajes enigmáticos, al mismo tiempo que comienza una serie de ataques contra los matones que le hicieron la vida imposible a su amigo. Sam sabe que tiene que enfrentar lo que ocurrió esa noche. La única manera: quitarse los auriculares y abrir los ojos a las personas que lo rodean (incluyendo una chica excéntrica e impredecible, también llena de secretos) para poder desentrañar la historia de su mejor amigo. Y quizás llegar a cambiar la suya propia.
Género: Contemporáneo, Young Adult, Romance
Eran hermosos, radiantes y estaban destrozados...
Cuando Julia Buchanan se inscribe a la preparatoria St. Anne's al principio de su segundo año de bachillerato, Charlotte Ryder ya sabe todo sobre la hija del ex senador, Julia Buchanan, igual que la mayoría de la gente... o al menos eso creen. Desde luego, Charlotte, una chica normal con beca en el internado, nunca esperaría volverse amiga de Julia, pero casi de inmediato se ve seducida por el increíble mundo de aquella chica impredecible y ocurrente que lleva una vida completamente distinta a la que conoce, de escapadas de los dormitorios a media noche, fiestas deslumbrantes, veraneos en casas palaciegas de playa y cocteles de efervescente champaña. Y para colmo, Charlotte empieza a enamorarse del guapo hermano mayor de Julia, Sebastian. Pero detrás de aquellas sonrisas muy seguras de sí mismas y los numerosos brindis por el futuro, Charlotte pronto se percata de un oscuro secreto: Julia sigue sufriendo por una tragedia, una desgracia que la familia Buchanan ha mantenido oculta... hasta ahora.
Género: Young Adult, Contemporáneo, Romance, Fantasía
Alice ha soñado con Max durante toda su vida. Juntos han viajado por todo el mundo y se han enamorado profunda e irremediablemente. Max es el chico de sus sueños, y solo de sus sueños... Pero el día en que lo conoce en realidad seda cuenta de que los sueños no son siempre lo que parecen. #Dreamology Yo inventé a Max. Por lo menos eso es lo que siempre he creído. Todos los ídolos de mi infancia combinados en un único chico perfecto. Pero acabo de descubrir que estaba equivocada. Porque en la puerta del aula, mirándome directamente a los ojos, está Max. Mi Max. El Max de mis sueños. El Max que no existe.
Género: Young Adult, Fantasía, Ciencia Ficción
*Segundo libro de la trilogía Endgame.
Sinopsis:
Los demás seguimos aquí de Patrick Ness
Patrick Ness, autor de Un monstruo viene a verme, nos recuerda en esta novela descarada, valiente y desternillante que a veces hay problemas más importantes que el fin del mundo, porque todos tenemos algo extraordinario en nuestras vidas. ¿Qué pasa si no eres el Elegido? ¿El que se supone que tiene que luchar contra zombis, fantasmas come-almas, o lo que resulten ser estas luces azules y muertes misteriosas? ¿Qué pasa si eres como Mike? Él solo quiere pasar el verano con sus amigos, y quizás atreverse a pedirle para salir a Henna antes de que alguien haga saltar el instituto por los aires. Otra vez. ¿Es que si no vas a salvar el mundo, tu vida no puede ser especial e interesante? Aunque quizás no tanto como la de tu mejor amigo, el Dios de los Gatos... Los lectores dicen...Lo que cuestiona este libro, con un tono de humor, es si alguien puede ser una historia épica sin necesidad de salvar el mundo. Una historia diferente y atrevida, que trata sobre el conocimiento de uno mismo y lo importante que es estar rodeado de buenas personas y vivir la vida al máximo.

El libro "La llave del Cielo" ha sido compartido por una seguidora del blog, así que ya no es opción.
Género: Young Adult, Contemporáneo
La vida sencilla y disciplinada de la joven Nanette está a punto de sufrir un cambio radical por un profesor y un libro prohibido que van a darle la vuelta a todo. Una novela sobre la rebeldía, el amor y la búsqueda de la identidad. Porque existe un lugar en este mundo para cada uno de nosotros. Hasta ahora Nanette O'Hare era la adolescente perfecta: estudiante ejemplar, deportista excelente y una obediente hija; pero su vida empezará a cambiar cuando llega a sus manos un libro de culto prohibido. Poco a poco, Nanette dejará de lado su papel de niña buena para convertirse en su verdadero yo: una joven llena de inquietudes, pasiones y con mucha personalidad por descubrir. ¿Podrá Nanette controlar su lado más rebelde?
#11. EL CÓDIGO DE CRUEL DE JAMES DASHNER
Género: Young Adult, Ciencia Ficción, Distopía
*Quinto libro de Maze Runner.
Hubo un tiempo en el que mundo ardió. Los bosques se incendiaron, los lagos y los ríos se secaron y los océanos inundaron todo. Luego vino la plaga, y la Llamarada arrasó con lo poco que quedaba de la humanidad. Murieron familias enteras. La violencia reinaba en todas partes. Y luego se creó C.R.U.E.L. Ellos estaban buscando una respuesta. Y encontraron al chico perfecto para llevar a cabo su plan. El joven se llamaba Thomas, y Thomas construyó el laberinto. Ahora hay secretos. Mentiras. Lealtades. Historias que jamás habrías imaginado. Llegó la hora de que conozcas la verdad sobre Thomas, C.R.U.E.L. y el mítico laberinto. El tiempo se acaba y tú tienes que conocer lo que sucedió realmente. ¿Estás listo?
ENTONCES...
LAS VOTACIONES CIERRAN EL DÍA MIÉRCOLES 11 de ENERO A LAS 12.00 HRS (MEDIODÍA) HORARIO DE CHILE.
¿Dudas? ¿Reclamos? ¿Sugerencias?
Y les adelanto que las próximas votaciones para un ebook serán la primera o segunda semana de Febrero.
Besos y abrazos,
-Rachell.
PD. Mañana o pasado publicaré una entrada un poco extensa que espero lean y comenten, es respecto de los acortadores y la compra de libros.