Antes de que existiera CRUEL, antes de que se construyera el Laberinto y mucho antes de que Thomas ingresara al Área, las llamaradas solares azotaron la Tierra y destruyeron el mundo que la Humanidad daba por sentado.
Mark y Trina estaban allí cuando esto ocurrió, y sobrevivieron. Pero sobrevivir a las llamaradas fue sencillo, comparado a lo que vendría después. Ahora una enfermedad que nubla la mente con ira y dolor, se expande por todo el territorio y hay algo muy sospechoso sobre su origen. Peor aún, está mutando y la evidencia sugiere que pondrá a la Humanidad de rodillas ante el caos, previo a una muerte más segura y espantosa. Mark y Trina están convencidos de que hay un modo de salvar de la locura a los pocos que quedan. Y están determinados a encontrarlo si pueden mantenerse vivos y sanos. Porque en este nuevo y devastador mundo, cada vida tiene un precio. También la tuya. Y para algunos, vales más muerto que vivo.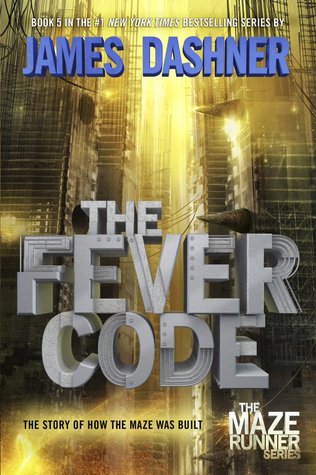 #0.6 The Fever Code/ El Código de Cruel/ Código C.R.U.E.L
Hubo un tiempo en el que mundo ardió.
Los bosques se incendiaron, los lagos y los ríos se secaron y los océanos inundaron todo.
Luego vino la plaga, y la Llamarada arrasó con lo poco que quedaba de la humanidad. Murieron familias enteras. La violencia reinaba en todas partes.
Y luego se creó C.R.U.E.L. Ellos estaban buscando una respuesta. Y encontraron al chico perfecto para llevar a cabo su plan.
El joven se llamaba Thomas, y Thomas construyó el laberinto.
Ahora hay secretos. Mentiras. Lealtades. Historias que jamás habrías imaginado.
Llegó la hora de que conozcas la verdad sobre Thomas, C.R.U.E.L. y el mítico laberinto.
El tiempo se acaba y tú tienes que conocer lo que sucedió realmente.
Al despertar dentro de un oscuro elevador en movimiento, lo único que Thomas logra recordar es su nombre. No sabe quién es. Tampoco hacia dónde va. Pero no está solo: cuando la caja llega a su destino, las puertas se abren y se ve rodeado por un grupo de jóvenes. "Bienvenido al Área, Novicio."
El Área. Un espacio abierto cercado por muros gigantescos. Al igual que Thomas, ninguno de ellos sabe cómo ha llegado allí. Ni por qué. De lo que están seguros es de que cada mañana las puertas de piedra del laberinto que los rodea se abren y por la noche, se cierran. Y que cada treinta días alguien nuevo es entregado por el elevador.
Un hecho altera de forma radical la rutina del lugar: llega una chica, la primera enviada al Área. Y más sorprendente todavía es el mensaje que trae.
Thomas será más importante de lo que imagina. Pero para eso deberá descubrir los sombríos secretos guardados en su mente. Por alguna razón, sabe que para lograrlo debe correr. Correr será la clave. O morirá.
El laberinto fue solo el comienzo. No te relajes... lo peor está por venir. Recuerda. Corre. Sobrevive.
Thomas y sus amigos descansan después de escapar del laberinto. Por fin sienten que están a salvo. Pero unos gritos desquiciados los despiertan y los enfrentan a una realidad aún más aterradora que la anterior.
Para sobrevivir, deberán emprender una travesía en la que cada desafío los enfrentará a nuevos peligros: calor ardiente, destrucción, un aire irrespirable. Cada paso es una sorpresa en una caminata casi apocalíptica Lo que quedó del mundo es un páramo, a través del cual deberán peregrinar hacia la esperanza (o quién sabe...). Emplazados, perseguidos, rodeados de locura, enfermedad y muerte; amenazados por cuerpos con llagas, devastados por la Llamarada; sin poder confiar en los adultos delirantes, hambrientos y violentos, que los acechan a cada paso.
Pero para Thomas lo peor será descubrir que lo poco que el creía auténtico en su nueva vida podría ser también una trampa. ¿Qué es verdad y que es mentira? ¿En quienes puede confiar? ¿Hasta dónde llega la manipulación? ¿Cuál es el objetivo de todo ese infierno?
#2.5 Recuerdo de Thomas
Pequeño recuerdo que ocurre entre "Prueba de Fuego" y "La Cura Mortal".
Thomas no puede confiar en CRUEL. La organización le borró sus recuerdos y lo encerró en el Laberinto. Luego lo dejó al borde de la muerte, en el Desierto. Y lo separaron de los Habitantes, sus únicos amigos Ahora CRUEL asegura que el tiempo de las mentiras ha terminado. Con toda la información que reunió gracias a las Pruebas, está en condiciones de avanzar en la cura de la Llamarada. Pero Thomas debe pasar por la Prueba Final. ¿Logrará sobrevivir al procedimiento? ¿Será cierto que se terminaron las mentiras? Quizá la verdad sea más terrible aún... una solución letal, sin retorno.
La Cura Mortal es el esperado final de la saga Maze Runner. En ella, James Dashner desarrolla una trama audaz, al límite, donde nadie parece estar a salvo en un mundo enfermo y desesperado, donde la cura y la muerte son el futuro que aguarda a una humanidad derrotada.
The Maze Runner Files/ Maze Runner: Expedientes Secretos
Expedientes Secretos es una recopilación de documentos clasificados y confidenciales. E-mails entre empleados de CRUEL, memos que debían ser destruidos luego de ser leídos y una selección de los recuerdos borrados de algunos Habitantes componen este original libro escrito por James Dashner e ilustrado por Marcelo Orsi Blanco.
Estos archivos secretos ofrecen una mirada única al mundo de Maze Runner y son una lectura obligada para los fans de la saga.
Luego de acceder a esta información, cada uno sabrá claramente si CRUEL es bueno. O no…
Luego de acceder a esta información, cada uno sabrá claramente si CRUEL es bueno. O no…
*ORDEN DE LECTURA POR FECHA DE PUBLICACIÓN: Correr o Morir, Prueba de Fuego, La Cura Mortal, Recuerdo de Thomas, Virus Letal, Expedientes Secretos y Código Cruel.