That arrogant Prince wants to get me pregnant!
But first he has to make me his fake Princess.
The monarchy is under attack, and he thinks I can help.
I just have to smile and pretend like we're actually married.
Except I really do want every inch of his enormous family jewels.
Bran Krizman is my boss, and he's not easy to work for. He's one of the youngest billionaires in the world and the heir to the throne of Bellestan. Everyone calls him Prince Billionaire, and he seems too good to be true.
Except he's real, and when he asks me to marry him, I think he's insane.
Sure, he's handsome, brilliant, and makes my skin flush with excitement whenever he gets too close, but I can't just do whatever he tells me to do.
He says it's to help his home country. He says the monarchy is under attack, and they need the Prince to find his Princess before their enemies can make a move. But I think he just wants to do all the dirty things he keeps whispering in my ear whenever we're alone.
When he offers me my dream job, I can't turn him down, but I know things are going to get messy. Every time I'm around him, I can't stop picturing how he'll bend me over and make me take the royal scepter. And he's going to turn that fantasy into reality.
I need him to transform me into his filthy little Princess before this all falls apart.
It is not something I'm used to.
I'm a beautiful woman and I like carefree, no commitment sex. I'm a single man's dream. So when I set my sights on the new bouncer for Forbidden Desires and he doesn't share my enthusiasm for a wild night together, I'm dumbfounded as to why.
Night after night, Levi ignores me–making me want him even more. I flirt and practically throw myself at him, but he's a complete gentleman. His indifference only makes him more desirable. I've made him my next target. He'll be my lover, as soon as I figure out how to wear him down.
My raw sex appeal isn't working with him and maybe there's a reason. He's hiding something underneath his large muscles and adorable dimples. Levi's keeping secrets from me and one night he reveals one of his secrets–he's vowed to be abstinent.
What the hell am I going to do now?
*Recommended for 18+ due to subject matter and sexual content.
**HEA, no cliffhanger, interconnected stand-alone novel.
Tomo Único/ Romance, Contemporáneo.
He couldn't keep his hands off me.
Single dad. Works with his hands. Handles big tools.How could I resist?I fled my past to find myself. Instead, I found the single dad boss of my dreams.Michael Vanderbilt is my rock. He's got an honest smile, a chiseled face, and a hard body. Did I mention he's a carpenter? He knows just how to handle a big piece of wood.So when he reluctantly gives me a job, a place to stay, and stability, I have to hold on as tight as I can. Plus, he's the best single dad I've ever seen.I just can't keep my eyes off him…
When he takes me in his arms and pins me against the wall, I melt. My throat closes. My toes curl. My heart swells. I let him have his way. I give in to his every whim.But not all things are as perfect as they look. Hell no.Just when I think I'm in the clear, my ex-boyfriend finds me. He stalks me. He wants me back. But I'm not coming back, and Michael is going to make sure of it. Only love can break your heart. But what happens if your whole world falls apart? Michael Vanderbilt saved my life. Now, I need that daddy more than he knows.
Tomo Único/ Romance, Contemporáneo.
She's a virgin. I'm the boss. It's all kinds of wrong.
I work hard, play harder, and never settle for anything but the best. I haven't made billions by taking shortcuts. If you're not at the top of your field, don't bother to apply.
Unless you're her. Erin White had the worst interview in company history. She stumbled over every question. Agonized over every answer.
Underneath the mass of insecurities is a brilliant young woman. And I'm obsessed with her. I want her by my side in my boardroom.
I never back down from a challenge—I'll get her past this. My coaching methods are… unusual. Intimate. I tease her, dare her, entice her, and get her so damned focused on me that her panic recedes. How? By whispering filthy things in her ear. Trailing my fingers over her luscious curves. Demanding her obedience.
And it works. Our training sessions go from mild to wild. And as Erin's confidence grows, I only want more. My company may need her brilliant mind, but I need all of her, so I push harder.
Restraint's not my strong suit. But if I push her too far, too fast, I'll lose her.
Tomo Único/ Young Adult, Histórico, Ciencia Ficción.
Divided by time. Ignited by a spark.
Kansas, 2065: Adri has secured a slot as a Colonist—one of the lucky few handpicked to live on Mars. But weeks before launch, she discovers the journal of a girl who lived in her house over a hundred years ago, and is immediately drawn into the mystery surrounding her fate. While Adri knows she must focus on the mission ahead, she becomes captivated by a life that's been lost in time…and how it might be inextricably tied to her own.
Oklahoma, 1934. Amidst the fear and uncertainty of the Dust Bowl, Catherine fantasizes about her family's farmhand, and longs for the immortality promised by a professor at a traveling show called the Electric. But as her family's situation becomes more dire—and the suffocating dust threatens her sister's life—Catherine must find the courage to sacrifice everything she loves in order to save the one person she loves most.
England, 1919. In the recovery following the First World War, Lenore struggles with her grief for her brother, a fallen British soldier, and plans to sail to America in pursuit of a childhood friend. But even if she makes it that far, will her friend be the person she remembers, and the one who can bring her back to herself?
While their stories spans thousands of miles and multiple generations, Lenore, Catherine, and Adri's fates are entwined.
Tomo Único/ Romance, Deportes.
Reagan is the one who got away – or should I say the one I drove away? Now, four years later, she's back to manage the gym where I train. Seeing her everyday is a distraction I can't afford. I'm so close to achieving the big payoff I've been working for. Nothing's going to keep me from winning this belt – not even her.
Tomo Único (hasta ahora)/ Romance, Música.
All over the world, crowds chant my name.
I'm gonna make her scream it.
I need to discover a band, and sign them – fast.
I didn't expect to find Wreckage. And I definitely didn't want to find Ewan Boyd.
The Scottish bad boy's temper has already burned me once.
He f*cked me over. He got me fired. He's the worst kind of mistake.
But he plays his guitar like a god and he plays my body even better.
I know I can build him up to be a huge success again.
I just have to keep myself from falling apart.
When the sh*t hit the fan and my band disintegrated, I was ready to walk away.
Until she walked into the room.
I was ready to give up on everything I'd worked for, but I'm not going to give up Celia Silver.
She wants to work with me. She wants a "business relationship."
But my only business plan is hearing her scream my name.
I'm not a flash in the pan. I'm no f*cking "one hit wonder."
I've got a second chance at rock stardom.
But she's got to take a chance on me first.
Tomo Único/ Romance, Romance MM, Contemporáneo, Misterio.
Journalist Alex Buchanan has come home to the remote British Columbia town he grew up in, but only because his estranged father is dying. For Alex, the homecoming holds a mix of memories, mostly bad. The only bright spot is reconnecting with Benji Morning, the childhood friend he never truly forgot. As boys, the strength of their bond had frightened Alex. But now that he's confident in his bisexuality, he's drawn back to quiet, soft-spoken Ben.
Ben isn't the same boy Alex left behind, though. His life has been overshadowed by the disappearance of his sister two decades earlier, and now a new break in the case threatens to undo the peace he's worked so hard to attain.
As Alex struggles to repair the relationship with his father before it's too late, he finds himself caught up in a twenty-year-old mystery, a story he never expected, and a shocking truth that could affect his and Ben's future together.
Tomo Único/
+18
, Adulto, Erótico, Menage, MMF.
In our law practice, we're always firm.
I'm broke. With no way to pay for my law school degree and mounting debt, I'm willing to do whatever I have to—even play dumb.The verdict? Get a job with the city's two hottest lawyers.But what I don't realize is they want to hear my pleas.All night long.
We need a legal assistant.But neither of us are prepared for the bombshell that walks into the interview.Innocent. Perfect. Tempting.We both want her.Come on honey, analyze our briefs.We're not some hung jury, we make up our minds.Hung, sure. Indecisive, no way.Cassie will be ours.Employees are supposed to be off limits.But we have to get our hands on her assets.Because once we have Cassie—it's case closed.There's no letting go.
Tomo Único/ Romance, Militar.
My mission: Do not f*ck the Admiral's daughter.
As a Navy SEAL, I'm used to one-on-one combat.So when the Admiral's daughter is confined to base for the summer, I'm ready to engage.She licks her lips and I want to reconnoiter her whole body.She tries to sneak into my barracks? I'll show her the missile in my pants.But rumor has it, she's never had an orgasm.And she's got the whole battalion planning to invade.So I'm going to save her, protect her, and be the first to have her moaning, "oh my SEAL."But I'll be up against a firing squad if I don't keep my shooter in my pants.And I have my baby daughter to care for. No time for a special mission that will get me discharged.Staying away from the Admiral's daughter is the toughest order I've ever had to obey.
Because she's made it her mission to make me want to misbehave.
Tomo Único/ Romance MM, Fantasía, Paranormal.
SSA Rain Christiansen used to be the agency's golden boy. It just takes one moment of weakness, one slight, tiny, itty-bitty paranormal sighting, and all of a sudden he's the agency's embarrassment. His boss gives him one last chance to redeem himself—go down to Brickell Bay, play nice with the local police, and leave the ghost sightings behind. Rain is determined to do exactly that, even if it kills him.
Cold-case detective Daniel McKenna's latest investigation is going nowhere fast. Five years earlier, high school student Amy Greene went missing after leaving her part-time job and was never seen again. Daniel is glad to finally have the FBI help that his department requested, even if it does come in the form of his ex.
It doesn't help that Rain is pretty sure he's falling in love with Danny all over again—if he ever stopped. Add to that the frustration of seeing ghosts at every turn while he works a case that's stalled in its tracks, and Rain is starting to wonder if second chances and happy endings are just for fairy tales.
Tomo Único/ Dark, Abuso, Romance.
I'm a bad guy.I do bad things. But I do them for the right reasons.That's why I can sleep easy at night even with the smell of fresh blood still in my nostrils. One more scumbag off the streets.One more righting of a wrong.That was all my life was about.Until I came across her…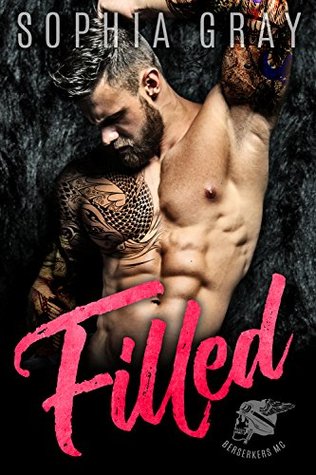 I'll fill her with my wrath, my heat…and my baby.
I was stabbed in the back and sent to rot in jail.Now that I'm free, there's only one thing on my mind: revenge.I'm going to find the man that framed me, and throw him in the grave.Then I'm going to find the woman that betrayed me, and force her to her knees.I thought I loved her.But after years spent wasting away in that godforsaken cell, I know better.Now, all I want is to break her.Zelda served me up to my enemies on a silver g*ddamn platter.I have to get answers.But even more than that, I have to get even.My first steps out of prison carry me to her front door.And who do I see inside?Warming the bed I used to sleep in?Eating the dishes I used to eat from?F*cking the woman I used to be with?
That bastard.That cold-blooded villain.I thought both Santos and Zelda had already stooped as low as any humans could go.But I'm going to send them one step lower:To a hell they never saw coming.Whether by the violence of the gun or of the hard, brutal f*ck…I'm coming to claim what's mine.
Para encontrar más libros en inglés, clic AQUÍ.