#1. Tall, Tatted and Tempting
Ella está cerrada a cal y canto. Pero él podría ser la llave.
Logan Reed es alto, tatuado y tentador.
Kit es una mujer con un buen gancho de derecha y un secreto.
Kit quiere un tataje, pero Logan ve más de lo que ella tiene intención de compartir en el dibujo del tatuaje que quiere. Él la ve en formas que nadie más ha hecho.
Logan no es discapacitado; pero no ha hablado en ocho años. Él no tiene necesidad de hacerlo.
Logan no sabe todo acerca de Kit. Kit no sabe nada acerca de sí misma, hasta que tiene que sacrificar todo lo que siempre quiso para salvar lo más importante para él.
ADVERTENCIA: Este libro no es para personas menores de 18 años debido al lenguaje adulto, sexualidad y situaciones adultas.
#2. Smart, Sexy And Secretive
Estoy de regreso en Nueva York para empezar mi nueva vida con Logan. Las cosas todavía están en el aire entre nosotros, y han sido tres meses desde que hablé con él. Pero hay una cosa de la que estoy segura... No puedo vivir sin él.
La necesito como al aire. Pero ahora ella ha vuelto, y su papá y su ex-novio están cospirando para mantenernos separados. Podemos hacer esto, sin embargo. ¿Podemos? ¿Podemos hacer que esto funcione? Tenemos que, porque no puedo imaginar mi vida sin ella.
Sean ha estado enamorado de Lacey desde que puede recordar, pero ella lo ha empujado con fuerza a la zona de los amigos y planea dejarlo allí. O eso es lo que él piensa.
Lacey puso a Sean en la zona de los amigos, pero ahora está lista para más. Sólo que él no hace ningún intento.
Lacey entra en un concurso en el que un beso será el premio. ¿Podrá Sean ganar el concurso? ¿Podrá conquistar a la chica?
#3. Calmly, Carefully, Completely
Ella ha estado bloqueada incluso más tiempo que él.
Peter Reed acaba de salir de la cárcel, terminado con las excusas, y listo para un nuevo comienzo.
Reagan Caster necesita agradecer a Pete por un acto de bondad, pero él quiere más que sólo su agradecimiento.
Reagan sabía cómo proteger su cuerpo, pero no su corazón. Y su traidor cuerpo responde a Pete en una forma que no ha hecho con nadie más. Cuando el inocente coqueteo de Pete se convierte en más, Reagan está lista para aceptar lo que él tiene para ofrecer.
Pete asume que Reagan necesita ser amada con cuidado y con calma.
Pero Reagan sabe que necesita ser amada completamente.
¿Puede él darle lo que necesita?
#3.5 Finally Finding Faith
—Encontrarás a Faith en la tienda de relojes —dice Peter Reed.
—¿Fe? No creo en la fe o Dios o predestinación ni nada de esa mierda ya. Creo en lo que puedo ver.
Daniel tiene una lista de cosas que quiere hacer antes de que el reloj de las doce del 31 de diciembre.
2. Conducir un carruaje arrastrado por caballos en la nieve.
3. Ver una obra de Broadway.
4. Comprar castañas calientes a un vendedor ambulante.
5. Comer una hamburguesa de medio kilo en Rocko's.
6. Beber chocolate caliente en una banca en el parque.
El reloj de Daniel dejó de trabajar cuando perdió a todos sus hombres, su pierna, y su esperanza en Afganistán. Un encuentro casual en el Salón de Tatuajes Reed lo dirige hacia Faith, una pelirroja con los más bonitos ojos verdes que nunca ha visto.
Daniel intenta respetar su plazo antes de que el reloj de la medianoche, y Faith se propone ayudarlo. Pero ella es bondadosa y ligera, y él no está listo para dejar su calor brillar en él.
Faith cuida de su abuela mayor y sabe cuan preciosa es la vida. ¿Pero puede ayudar a Daniel a darse cuenta de eso antes de que sea demasiado tarde? Ella tiene menos de veinticuatro horas.
Calmly, Carefully, Completely dejó a los lectores con una pregunta… ¿Alguna vez conseguiría Reagan justicia contra su atacante?
¿Un encuentro al azar, una bien merecida patada en el trasero y el final del compromiso de Emily y Logan? ¡Averigua lo que pasa después en La Venganza de Reagan!
Lo que él necesitaba era un milagro…
Matthew Reed ha visto su parte de problemas. Pero él es un Reed y los Reed vencen cualquier cosa. Matt está contento trabajando en el salón de tatuajes de su familia con sus hermanos rodeándolo. La única cosa que le hace falta es la habilidad de tener una familia por su cuenta. Luego de su batalla con el cáncer lo llevó a conocer a una mujer que podría necesitarlo tanto como él a ella.
Skylar Morgan es feliz. Tiene un novio. Seguro, no hace a su corazón latir más rápido y en realidad no la apoya cuando lo necesita. Pero ella no necesita mucho. ¿Cierto? Es feliz de ser auto suficiente y es feliz de que no tiene una tremenda cantidad de responsabilidad. Es educada, tiene un gran trabajo, y tiene suficiente dinero para una vida. Pero lo que le hace falta, ni siquiera se da cuenta hasta que lo conoce. Y ellos. Quienes cambian su vida para siempre.
#5. Proving Paul's Promise
Él la ha visto desde lejos...
Paul Reed ha estado criando chicos desde que era uno él mismo, pero no cambiaría su vida, incluso si se le diera una oportunidad. Eso es, hasta que uno de sus hermanos dice cuatro pequeñas palabras que sacuden los cimientos de su mundo. "Ella no es lesbiana" no debería ser para partir la tierra, pero de repente la mujer que ama está disponible y hará lo que sea para conquistarla.
La llaman Viernes, y ella está ocultando más que su nombre...
Viernes ha trabajado en el salón de tatuajes Reed durante cuatro años. Se ha convertido en más que sólo una empleada, y le encanta estar en el medio de algo tan maravilloso. Ella aterosa la forma en que los Reed viven los unos por los otros y adora la forma en que cuidan de su familia. Haría cualquier cosa por ser parte de ella, si no fuera por el hecho de que no merece una familia propia. ¿O sí? Viernes se está castigando por su pasado, y al hacerlo, aleja al hombre que podría amarla verdaderamente.
Por separado, son fuertes. Juntos, son vulnerables. Como un equipo son roca.
El conoce el valor de la vida.
Ella todavía está aprendiendo.
¿Qué harías si tuvieras un último momento para decir adiós? ¿Lo tomarías?
#5.6 Beautiful Bride
Matt, Sky, Seth, Joey, Mellie, Hoppy y Matty
Paul, Friday, Hayley, y PJ
Toda la familia esta pasando el tiempo en el playa para un evento especial y les encantaría que vengas a unirte. Inlcuso puede que haya una boda.
Sam Reed es el único hermano en la familia Reed que no ha caído hasta los talones enamorado. Él tiene un prometedor contrato para jugar fútbol profesional, pero algo está faltando. A Sam le gusta ver programas de cocinar, acurrucarse en el sofá, y quiere a alguien que lo haga con él. Pero con su estilo de vida en ascenso, es casi imposible encontrar el tiempo para conocer una mujer. Eso es, hasta que conoce la que lo hace querer cambiar su vida entera.
Un nombre falso y un mundo de dolor...
Cuando Peck tenía doce años, era llamada por un nombre diferente, vivía con una familia diferente, y no tenía perspectivas de ningún tipo. Pero ahora se encuentra a sí misma como la baterista en una banda de chicas, hace más dinero de lo que nunca soñó posible, está contenta. Hasta el día que su madre biológica se muestra de nuevo.
Fama. Fortuna. Estrellato. Adoración.
Ninguno de los dos lo quiere.
Ambos lo tienen. Pero, ¿pueden tener más?
¡Es Navidad! Los Reeds tienen grandes planes para Navidad y esperan que te unas a ellos en este día tan espacial.
Ella es la cantante principal en una popular banda de rock.
Él es un artista del tatuaje.
Ella es toda pliegues perfectos y ropa de marca.
Él está cubierto en tinta de prisión.
Él no tiene una basinica para orinar.
La pregunta es... ¿ella será lo suficientemente buena para él alguna vez?
Ella odia los mentirosos.
Está segura de que él es uno.
Nunca duerme con un hombre más de una vez.
Él solo ha tenido sexo con una mujer en toda su vida, y ahora ella se fue.
Él reza antes de cada comida.
Ella silenciosamente espera que él deje de hacer eso.
La fe es lo que me ha quedado cuando todo se me ha quitado, dice él.
¿Qué quedará cuando ella sea desvestida, desnuda, completamente cruda? Ella no tiene idea.
¿Qué si no hay nada?
Chico se enamora de chica.
Chica se enamora de chico... ¡CHILLIDO!
No. No puede ser tan fácil. (Lo sabías, ¿verdad?)
Chico no puede enamorarse de la chica, porque la chica viene de una cultura diferente.
Ella también tiene secretos. Un montón de secretos que él está decidido a descubrir.
Él va a tratar de descubrir todos sus secretos. Pero al hacerlo, tendrá que quitar los guantes detrás de los que se esconde. Dejarla desnuda y dolorida. ¿Y qué pasa entonces?
Chica se enamora de chico.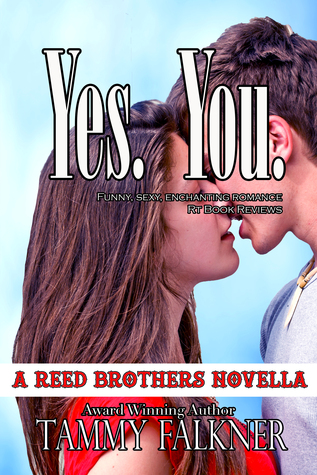 Antología navideña.
#9.6 Forget Me Not (Antología)
10 artistas que hacen una prueba para trabajar con los hermanos Reed
10 pieles, cada una con una historia para contar
10 tatuajes perfectos que nunca olvidarán
Una antología de diez historias por diez diferentes autores que van a donar el 100% de los ingresos para beneficiar la enfermedad de Alzheimer y salud mental. Únete a Tammy Falkner, Jane Charles, Ava Stone, Marquita Valentine, Lexi Eddings, Lj Charles, Andris Bear, Jerrica Knight-Catania, Caren Crane y a Diane Franks para ayudar a combatir esta terrible enfermedad.
¿Qué consigues cuando pones un portero casamentero, algunos hermanos Reed con buenas intenciones, y cinco hermanas, una de ellas, un poco perdida? Consigues el nuevo libro de Tammy Falker, I'M IN IT.
Mick se enamoró de Wren en el peor momento posible. Ella estaba en el medio de algo maravilloso, y entonces ya no lo estaba. Su vida cambió en un pestañeo. Y en esta situación, no fue un cambio para mejor. Él todavía puede recordar cuando ella sintió el primer calambre. Cuando presionó sus rodillas juntas apretadamente en el asiento de enfrente de su auto como si pensó que podía sostener esa vida dentro de ella por pura voluntad. Y si fuera por pura voluntad, lo habría logrado.